2020 City Lax Dash FAQ's
November 08, 2019
WHAT IS THE DASH?
The Dash is a running race taking place at City Park on February 9, 2020, in support of Denver City Lax. Last year, over 400 high school boys and girls lacrosse players from schools throughout Colorado ran in the Dash making it the most successful non-profit fundraiser attributable to high school lacrosse players in Colorado lacrosse history.

WHY RUN?
The Dash is a fundraiser for Denver City Lax. By participating in the race, runners are helping City Lax continue to create educational and enrichment opportunities for youth in underserved Denver areas through the sport of lacrosse.

Runners receive valuable community service hours (up to 20) for helping impact a kid's life that they share the common bond of lacrosse with.

It's an opportunity to get in shape and increase fitness in preparation for the upcoming spring lacrosse season. Many coaches use the Dash to meet their team's running requirements.

Runners gain a sense of accomplishment through both helping a local nonprofit work with at-risk kids while also bettering themselves.

It's a community event that has emerged as the most successful non-profit fundraiser attributable to Colorado high school lacrosse players.

HOW DO PLAYERS SIGN UP?
Fill out the Dash Registration Form here!

Denver City Lax will create a personal online page for each runner, and send it back to anyone that registers (Runners – be sure to check your email).

Runners can then personalize their online page with their own picture, fundraising goal and any statement as to why they are running in the Dash.

Runners then share their fundraising page with family and friends (Email, letter, social media, etc.), asking for support in their run for Denver City Lax.
"WHEN AND WHERE" IS THIS YEAR'S CITY LAX DASH?

The Dash takes place on February 9, 2020 at City Park in Denver (see map below).

9:15 a.m.  Runner check-in and snacks at City Lax tent
10:00 a.m.  Race begins!
10:30-12:30 p.m.  Post-race festivities (music, 3x games, prizes, and more).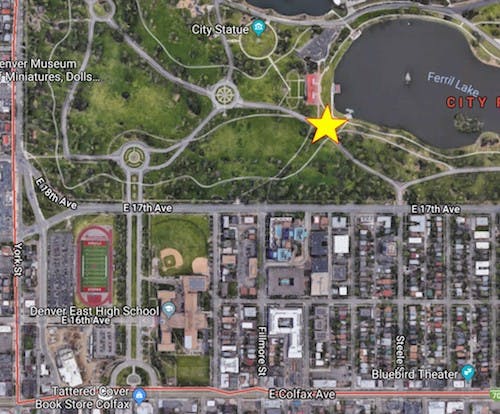 HOW MUCH DOES IT COST TO REGISTER FOR THE CITY LAX DASH?
City Lax picks up all race registration fees, but each runner must raise a minimum of $100 on their personal crowdfunding page to run in the Dash.

Once the $100 minimum is met the individual will be entered into the race.

City Lax also gives each runner a great race t-shirt.
HOW DO I GET COMMUNITY SERVICE HOURS?
Runners can earn up to 20 hours of community service for participating in the City Lax Dash.

Community service hours are earned through the time spent physically training and then running in the Dash; hours spent signing up teammates or others to register for the Dash; hour spent creating awareness about the City Lax organization; and hours spent fundraising in order to meet your individual monetary goal.

Runners keep track of their hours, and then Denver City Lax is asked by each runner to review hours submitted and provide confirmation.
HOW DOES GoFundMe WORK?
GoFundMe is a team-based crowdfunding platform. Each school participating in the Dash has a team page, and each runner representing that school has their own personal page. When runners reach out to family and friends asking for support in their running effort, potential donors will be directed to each runner's personal page to make a contribution.
WHAT IS DENVER CITY LAX?
Denver City Lax is a 501 (c) (3) non-profit youth development program using lacrosse as a platform for social change in urban Denver neighborhoods. Hundreds of kids participate in our program delivering health, character and leadership skills that lead to academic success and positive social outcomes. All programming is provided at no cost to participants and their families.

Over 300 full-time participants are part of Denver City Lax, and 1,000's of new kids have been introduced to the great game of lacrosse.

In addition to lacrosse, year-round opportunities for Denver City Lax participants include leadership camps, academic assistance, outdoor adventure experiences, enrichment activities, college visits and individual mentoring.