Stay-At-Home: What we've been up to - A LOT!
June 01, 2020
The COVID-19 pandemic has been more than just a health crisis impacting our city, state, country and world, as schools and businesses everywhere shut down or curtailed services changing up life on both the home and work front. Many communities, including neighborhoods City Lax works in, have been affected disproportionally. It's challenging times.
As youth sports were kicked to the sidelines mid-March, Denver City Lax developed and moved to remote programming. A six-week schedule began in April and lasted through the normal spring lacrosse season ending the third week in May.
Since our organization's inception a dozen years ago a main objective has been to promote personal growth in boys and girls, and do so in zip codes the game of lacrosse had never been played in. Kids are our future leaders, and as a youth development organization we envisioned City Lax programming to extend beyond the lacrosse fields and include educational support and enrichment activity. To assure access and opportunity to participate, everything we do is offered at no cost.
We've been fortunate over the years to build trusting relationships with the kids and families that are the heart of City Lax. With the viral crisis changing up the world, we are committed more than ever to being there for the kids. Despite the Covid-19 interruption, it's the personal connections that allowed us to stay in touch in a meaningful way and maintain a sense of continuity even on a remote platform.
A few important precepts guided our virtual activity and spring programming. First, we wanted to provide support to any participant that had needs at school or home, and did so through personal check-ins with all team members. Second, we hoped to keep each participant involved in our three program areas of lacrosse, education and enrichment through a variety of tasks and assignments that changed up weekly. And third, we wanted to maintain our organizational structure by keeping staff, coaches and volunteers involved to the extent possible.
We've highlighted a portion of City Lax remote programming below. We started each week with a schedule that looked like this:

LACROSSE
Through daily and weekly assignments we kept City Lax players active in working to improve as lacrosse players. The focus was on personal skill development through wall ball routines, shooting drills and other training.
Also, City Lax provided Lacrosse "Bounceback" Rebounders to a number of families that requested with their promise to wear them out or send them back.

ACADEMIC SUPPORT
We've moved all academic support online. Coach Cher Crichlow (City Lax Director of Education Development) continues to work with students on a daily basis via Zoom, FaceTime, text message, and email.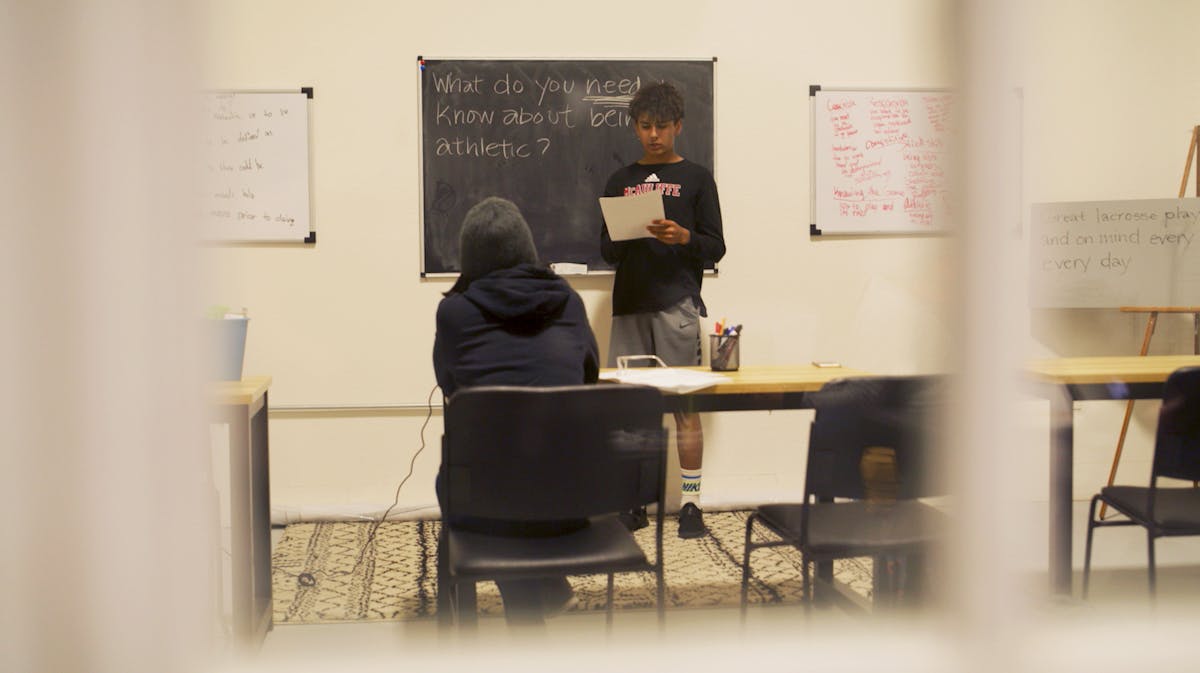 PHYSICAL FITNESS
Staying active is one of the most important benefits of engaging in team sports. The COVID-19 pandemic has shined a light on the importance of staying physically active - higher risk of severe outcomes are directly linked to obesity, hypertension, and other health-related factors. Breaking a sweat is also directly related to improved mental happiness and function. So we've been moving!
City Lax boys and girls were busy with daily at-home workouts as well as team led sessions via Zoom.

TEAM MEETINGS
Weekly team meetings kept City Lax participants engaged and connected as a community. We made sure to include our normal spring practice routine of establishing a Theme of the Week that focused every practice and game on a character building skill important to personnel development. Themes this spring included Personal Accountability, Grit, Time Management, Leadership and developing a Positive Growth Mindset.
Here are two sample team discussions featuring the topics of Growth Mindset and Leadership.

STAY-AT-HOME ASSIGNMENTS
Each week we used a "Bingo Board" consisting of nine assignments that included lacrosse, workout and nutrition tasks and also academic or enrichment exercises that included learning the history of lacrosse, writing thank you notes and expressions in art.
Any student that completed all nine assignments put them in the running to win a free dinner for their entire family purchased each week from a local restaurant courtesy of City Lax.

SPECIAL GUEST SPEAKERS
We were fortunate to organize a group of weekly special guest speakers that included Dillon Ward, Romar Dennis, Tari Kandemiri "Official Lax Girl," City Lax Alumni - Mustang Sally and Cole Finley-Ponds, and Andrew Lee
COOKING AND HEALTH
Cooking a family meal can be a boost to self-confidence by learning a new task or accomplishing an old one for the benefit of others, as well as laying the foundation for paying attention to healthy eating habits. We're unaware of any kitchen disasters.

UPCOMING SUMMER
Planning is underway for summer programming as new return to play guidelines evolve. Besides getting back on the field, we are aware that academic learning loss and social/emotional wellness may well be significant factors for youth everywhere. We will attempt to adjust our programming accordingly.